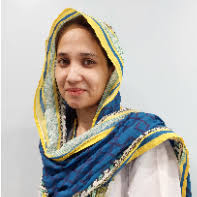 Dr. Sehrish Arif//= $doc_speciality ? " | " . $doc_speciality : ""; ?>
Paediatrician
About

Dr. Sehrish Arif

"Dr. Sehrish Arif is one of the best & experienced Paediatricians in Usman Memorial Hospital. She is a highly skilled doctor with extensive experience in her field. "
Specialities
Services
Autism in children, Asthma, Constipation, Complete Vaccination, Detailed Newboarn Examine, Emergency Treatment, Management of Pediatric Illness, Nutrition Assessment, Short stature
Language
Education

December 2011
M.B.B.S.
Liaquat University of Medical and Health Sciences
Virtual Consultation
Shifaam Virtual Clinic
Consultation Fee Rs.500
Book Your Appointment
Virtual Clinic
Fee: Rs.500
Usman Memorial Hospital...
Fee: Rs.500
The legend below indicates the status of the appointment slots.
1.

Physical Clinic: all available time slots for physical doctors appointments only

2.

Virtual Clinic: all available time slots for doctors appointments via video call

3.

Free Clinic: all available time slots for free virtual clinic appointments

4.

Booked Clinic: unavailable time slots that have already been booked
Physical Clinic

Virtual Clinic

Free Clinic

Booked Clinic
Usman Memorial Hospital

12:00 PM
12:20 PM
12:40 PM
01:00 PM
Load More
01:20 PM
01:40 PM
12:00 PM
12:20 PM
12:40 PM
01:00 PM
Load More
01:20 PM
01:40 PM
12:00 PM
12:20 PM
12:40 PM
01:00 PM
Load More
01:20 PM
01:40 PM
12:00 PM
12:20 PM
12:40 PM
01:00 PM
Load More
01:20 PM
01:40 PM
12:00 PM
12:20 PM
12:40 PM
01:00 PM
Load More
01:20 PM
01:40 PM
Shifaam Virtual Clinic

12:00 PM
12:20 PM
12:40 PM
01:00 PM
Load More
01:20 PM
01:40 PM
12:00 PM
12:20 PM
12:40 PM
01:00 PM
Load More
01:20 PM
01:40 PM
12:00 PM
12:20 PM
12:40 PM
01:00 PM
Load More
01:20 PM
01:40 PM
12:00 PM
12:20 PM
12:40 PM
01:00 PM
Load More
01:20 PM
01:40 PM
12:00 PM
12:20 PM
12:40 PM
01:00 PM
Load More
01:20 PM
01:40 PM
Recent reviews
(2)
M Khuzaima Noman

Satisfied

Muhammad Khuzaima

Satisfied