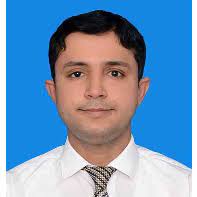 Dr Muhammad Masood//= $doc_speciality ? " | " . $doc_speciality : ""; ?>
Gastroenterologist
About

Dr Muhammad Masood

"I am Dr Mohammad Masood, working as Consultant Gastroenterologist, Hepatologist and Endoscopist at Jinnah Post graduate medical center as well as K health care. I have done with FCPS in Gastroenterology in 2020 and one of member of American College of Gastroenterology. Also, dealing with Gastroenterology and liver diseases and doing diagnostic as well as therapeutic endoscopic procedures including bleed management like acute emergencies."
Specialities
Services
Colonoscopy, Gall Bladder, Gastric Band Ligation, Gastroscopy, Liver Problem, Pancreas Treatement, PEG tube placement, Stomach & Colon Disease, Hepatitis A Treatment, Hepatitis B Treatment, Hepatitis C Treatment
Language
Education

April 2020
F.C.P.S. (GASTROENTEROLOGY)
COLL.OF PHYSICIANS & SURGEONS PAKISTAN

January 2011
M.B.B.S
LIAQUAT UNIV. JAMSHORO
Book Now
Book Your Appointment
K-Health Care Hospital...
Fee: Rs.2,000
The legend below indicates the status of the appointment slots.
1.

Physical Clinic: all available time slots for physical doctors appointments only

2.

Virtual Clinic: all available time slots for doctors appointments via video call

3.

Free Clinic: all available time slots for free virtual clinic appointments

4.

Booked Clinic: unavailable time slots that have already been booked
Physical Clinic

Virtual Clinic

Free Clinic

Booked Clinic