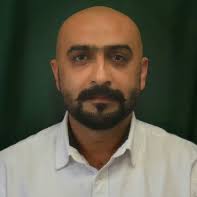 Dr. Mansoor Chandio//= $doc_speciality ? " | " . $doc_speciality : ""; ?>
MBBS, FCPS (Anaesthesia) Fellow Pain Medicine (Aga Khan Uni. Hospital)
Pain Management Specialist
About

Dr. Mansoor Chandio

"Dr. Mansoor Chandio is a very well-regarded Pain Management Specialist and has a number of certifications under his belt. Dr. Mansoor Chandio has an extensive experience in the field of Pain Management. Currently, providing consultation at Cancer Foundation Hospital.""
Specialities
Pain Management Specialist
Services
Backache, Neck pain, Knee Pain, Cancer Pain, Trigeminal Neutralgia, Postherpetic Neuralgia, Diabetic Neuropathy, Headache Migraine
Language
Experience

September 2020 - Present
Assistant Professor and Head of Department Anesthesia
Jinnah Medical and Dental College, Karachi
Education

December 2007
M.B.B.S.
Liaquat University of Medical & Health Sciences

February 2020
FCPS Anaesthesiology
College of Physicians & Surgeons Pakistan
Virtual Consultation
Shifaam Virtual Clinic
Consultation Fee Rs.1,000
Book Your Appointment
Virtual Clinic
Fee: Rs.1,000
Cancer Foundation Hospital ...
Fee: Rs.1,000
The legend below indicates the status of the appointment slots.
1.

Physical Clinic: all available time slots for physical doctors appointments only

2.

Virtual Clinic: all available time slots for doctors appointments via video call

3.

Free Clinic: all available time slots for free virtual clinic appointments

4.

Booked Clinic: unavailable time slots that have already been booked
Physical Clinic

Virtual Clinic

Free Clinic

Booked Clinic