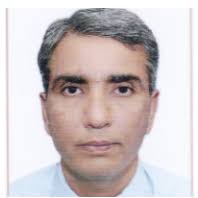 Dr Abdullah Shaikh//= $doc_speciality ? " | " . $doc_speciality : ""; ?>
MBBS , MSC ( London ) , DCAP ( London )
Psychiatrist
About

Dr Abdullah Shaikh

"Dr Abdullah Shaikh is a very well regarded Psychiatrist and has a number of certifications under his belt, including MBBS , DCAP and MSc From U.K London as well as 20 years of experience in his field. Dr. Abdullah Shaikh is capable of providing a diverse array of treatments and services"
Specialities
Services
Treatment and management of mental health issues, Cognitive behavioural therapy, Career Counselling Crisis Management, Resolving Mental Health Issues, ADHD Treatment (ADHD), Anxiety Disorders Treatment, Bipolar Disorder Treatment , Child Psychiatrist, Depression Treatment, Social Anxiety Disorders Treatment, Electroconvulsive Therapy (ECT), Stress Management, Psychoses (Schizophrenia Etc.), Obsessive Compulsive Disorder (OCD), Drug Addiction Recovery
Language
English, Urdu, Punjabi , Sindhi, Pashto, Balochi , Memoni
Education

December 2007
DCAP
University of London
Virtual Consultation
Shifaam Virtual Clinic
Consultation Fee Rs.1,000
Book Your Appointment
Virtual Clinic
Fee: Rs.1,000
Hashmanis Hospital...
Fee: Rs.1,000
Life Care Consultant Clinics...
Fee: Rs.2,000
The legend below indicates the status of the appointment slots.
1.

Physical Clinic: all available time slots for physical doctors appointments only

2.

Virtual Clinic: all available time slots for doctors appointments via video call

3.

Free Clinic: all available time slots for free virtual clinic appointments

4.

Booked Clinic: unavailable time slots that have already been booked
Physical Clinic

Virtual Clinic

Free Clinic

Booked Clinic
Shifaam Virtual Clinic

07:00 AM
07:30 AM
08:00 AM
08:30 AM
Load More
09:00 AM
09:30 AM
10:00 AM
10:30 AM
11:00 AM
11:30 AM
12:00 PM
12:30 PM
01:00 PM
01:30 PM
02:00 PM
02:30 PM
03:00 PM
03:30 PM
04:00 PM
04:30 PM
05:00 PM
05:30 PM
06:00 PM
06:30 PM
07:00 PM
07:30 PM
08:00 PM
08:30 PM
09:00 PM
09:30 PM
10:00 PM
10:30 PM
11:00 PM
07:00 AM
07:30 AM
08:00 AM
08:30 AM
Load More
09:00 AM
09:30 AM
10:00 AM
10:30 AM
11:00 AM
11:30 AM
12:00 PM
12:30 PM
01:00 PM
01:30 PM
02:00 PM
02:30 PM
03:00 PM
03:30 PM
04:00 PM
04:30 PM
05:00 PM
05:30 PM
06:00 PM
06:30 PM
07:00 PM
07:30 PM
08:00 PM
08:30 PM
09:00 PM
09:30 PM
10:00 PM
10:30 PM
11:00 PM
07:00 AM
07:30 AM
08:00 AM
08:30 AM
Load More
09:00 AM
09:30 AM
10:00 AM
10:30 AM
11:00 AM
11:30 AM
12:00 PM
12:30 PM
01:00 PM
01:30 PM
02:00 PM
02:30 PM
03:00 PM
03:30 PM
04:00 PM
04:30 PM
05:00 PM
05:30 PM
06:00 PM
06:30 PM
07:00 PM
07:30 PM
08:00 PM
08:30 PM
09:00 PM
09:30 PM
10:00 PM
10:30 PM
11:00 PM
07:00 AM
07:30 AM
08:00 AM
08:30 AM
Load More
09:00 AM
09:30 AM
10:00 AM
10:30 AM
11:00 AM
11:30 AM
12:00 PM
12:30 PM
01:00 PM
01:30 PM
02:00 PM
02:30 PM
03:00 PM
03:30 PM
04:00 PM
04:30 PM
05:00 PM
05:30 PM
06:00 PM
06:30 PM
07:00 PM
07:30 PM
08:00 PM
08:30 PM
09:00 PM
09:30 PM
10:00 PM
10:30 PM
11:00 PM
07:00 AM
07:30 AM
08:00 AM
08:30 AM
Load More
09:00 AM
09:30 AM
10:00 AM
10:30 AM
11:00 AM
11:30 AM
12:00 PM
12:30 PM
01:00 PM
01:30 PM
02:00 PM
02:30 PM
03:00 PM
03:30 PM
04:00 PM
04:30 PM
05:00 PM
05:30 PM
06:00 PM
06:30 PM
07:00 PM
07:30 PM
08:00 PM
08:30 PM
09:00 PM
09:30 PM
10:00 PM
10:30 PM
11:00 PM
Recent reviews
(5)
Syed Saad ul Haq

Satisfied

Rifat Sultana

Anonymous

Anum Haris

Satisfied with Consultation

Isma Khalid

Satisfied