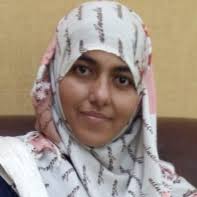 Adeeba Inam//= $doc_speciality ? " | " . $doc_speciality : ""; ?>
Psychologist
About

Adeeba Inam

"Adeeba Inam is an Associate Clinical Psychologist who is proficient in dealing with Mental Health Issues. She has a MS (Clinical Psychology) degree from Bahria University and has expertise in Psychotherapy and Psychological Assessment. Since last 3 years she has been involved with multiple mental health to provide online therapy to clients from corporate and academic setups. Adeeba acknowledges that every client has their own story to tell. She strongly believes in tailoring each process according to the client's needs.. She is currently associated with AAS Trust and House of Pebbles."
Specialities
Services
Psychotherapy and Psychological Assessment.
Language
Experience

February 2019 - Present
Associate Clinical Psychologist
AAS Trust
Education

February 2020
MS in Clinical Psychology
Bahria University Karachi Campus
Virtual Consultation
Shifaam Virtual Clinic
Consultation Fee Rs.3,000
Book Your Appointment
Virtual Clinic
Fee: Rs.3,000
House of Pebble's...
Fee: Rs.3,000
The legend below indicates the status of the appointment slots.
1.

Physical Clinic: all available time slots for physical doctors appointments only

2.

Virtual Clinic: all available time slots for doctors appointments via video call

3.

Free Clinic: all available time slots for free virtual clinic appointments

4.

Booked Clinic: unavailable time slots that have already been booked
Physical Clinic

Virtual Clinic

Free Clinic

Booked Clinic
Shifaam Virtual Clinic

07:00 PM
08:00 PM
09:00 PM
10:00 PM
Load More
-
-
-
-
-
-
-
-
-
-
07:00 PM
08:00 PM
09:00 PM
10:00 PM
Load More
-
-
-
-
-
-
-
-
-
-
07:00 PM
08:00 PM
09:00 PM
10:00 PM
Load More
-
-
-
-
-
-
-
-
-
-
09:00 AM
10:00 AM
11:00 AM
12:00 PM
Load More
01:00 PM
02:00 PM
03:00 PM
04:00 PM
05:00 PM
06:00 PM
07:00 PM
08:00 PM
09:00 PM
10:00 PM
07:00 PM
08:00 PM
09:00 PM
10:00 PM
Load More
-
-
-
-
-
-
-
-
-
-