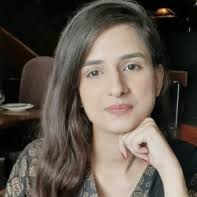 Aaiza Khalid//= $doc_speciality ? " | " . $doc_speciality : ""; ?>
Clinical Psychologist
About

Aaiza Khalid

"Ms. Aaiza Khalid is a Consultant Clinical psychologist. An experienced, competent and compassionate psychotherapist working with people of all ages, dealing or managing issues or problems with great zeal. Currently working as a mental health professional with an experience of 3 years."
Specialities
Clinical Psychologist, Psychotherapist Counselor, Mental Health Professional
Services
Congnitive Behavioral Therapy (CBT), Applied Behavioral Analysis, Play Therapy, Art Therapy, Self-estreemBuilding Excercise, Assertive Training, Anger Managment, Identification Of Representional System, Psychological assessment, Diagnosis, Time Managment, Adjusting to change/Life transitions,, Alcohol And Drug Abuse,, Anxiety disorders,, Behavioral and Emotional problems, Burnout, Career Counseling, Career issues/career counseling, Childhood And Adolescence Issues, Depression, Grief counseling, OCD, Personal Grooming, Phobia, Sexual Psychotherapy, Anxiety Disorders Treatment, Stress Disorder, Work Related Stress and Relationship issues, Behavioral Modification
Language
Experience

January 2017 - January 2018
Clinical Psychologist
Services Hospital Lahore

January 2018 - January 2019
Clinical Psycholosgst
Rising Sun Institute

January 2019 - January 2020
Clinical Psychologist
Fountain House
Education

December 2018
BS (Applied Psychology)
Lahore College for Women Unviversity

December 2020
MS (Clinical Psychology)
UMT (Lahore)
Virtual Consultation
Shifaam Virtual Clinic
Consultation Fee Rs.2,500
Book Your Appointment
Virtual Clinic
Fee: Rs.2,500
The legend below indicates the status of the appointment slots.
1.

Physical Clinic: all available time slots for physical doctors appointments only

2.

Virtual Clinic: all available time slots for doctors appointments via video call

3.

Free Clinic: all available time slots for free virtual clinic appointments

4.

Booked Clinic: unavailable time slots that have already been booked
Physical Clinic

Virtual Clinic

Free Clinic

Booked Clinic
Shifaam Virtual Clinic

10:00 AM
10:30 AM
11:00 AM
11:30 AM
Load More
12:00 PM
12:30 PM
01:00 PM
01:30 PM
02:00 PM
02:30 PM
03:00 PM
03:30 PM
04:00 PM
04:30 PM
05:00 PM
05:30 PM
06:00 PM
06:30 PM
07:00 PM
07:30 PM
08:00 PM
08:30 PM
09:00 PM
09:30 PM
10:00 AM
10:30 AM
11:00 AM
11:30 AM
Load More
12:00 PM
12:30 PM
01:00 PM
01:30 PM
02:00 PM
02:30 PM
03:00 PM
03:30 PM
04:00 PM
04:30 PM
05:00 PM
05:30 PM
06:00 PM
06:30 PM
07:00 PM
07:30 PM
08:00 PM
08:30 PM
09:00 PM
09:30 PM
10:00 AM
10:30 AM
11:00 AM
11:30 AM
Load More
12:00 PM
12:30 PM
01:00 PM
01:30 PM
02:00 PM
02:30 PM
03:00 PM
03:30 PM
04:00 PM
04:30 PM
05:00 PM
05:30 PM
06:00 PM
06:30 PM
07:00 PM
07:30 PM
08:00 PM
08:30 PM
09:00 PM
09:30 PM
10:00 AM
10:30 AM
11:00 AM
11:30 AM
Load More
12:00 PM
12:30 PM
01:00 PM
01:30 PM
02:00 PM
02:30 PM
03:00 PM
03:30 PM
04:00 PM
04:30 PM
05:00 PM
05:30 PM
06:00 PM
06:30 PM
07:00 PM
07:30 PM
08:00 PM
08:30 PM
09:00 PM
09:30 PM
10:00 AM
10:30 AM
11:00 AM
11:30 AM
Load More
12:00 PM
12:30 PM
01:00 PM
01:30 PM
02:00 PM
02:30 PM
03:00 PM
03:30 PM
04:00 PM
04:30 PM
05:00 PM
05:30 PM
06:00 PM
06:30 PM
07:00 PM
07:30 PM
08:00 PM
08:30 PM
09:00 PM
09:30 PM