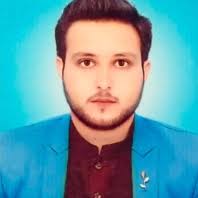 Aarif Niazi//= $doc_speciality ? " | " . $doc_speciality : ""; ?>
Mental Health Professional
About

Aarif Niazi

"He has worked as Director& Consultant Psychologist at Pak Young Psychologists Academy, Founder & President at Pakistan Young Psychologists Association . He is currently working is as Motivational speaker, Psychotherapist at Peace Rehab Center Islamabad."
Specialities
Mental Health Professional
Services
Acute Stress Disorder, Psychological assessment, Delusional Disorder
Language
Experience

June 2017 - August 2019
Motivatioal speaker
Mental Health care Hospital...

June 2019 - Present
Director & Psychologist
Pakistan Young Psychologists Academy

February 2020 - Present
addiction Counsellor
Peace rehab Center ISLAMABAD

June 2020 - Present
irector & Psychologist
Pak Young Psychologists Academy
Education

December 2017
Msc
Virtual University of Pakistan

December 2019
Post- Magistral Diploma in Clinical Psychology
GC University Lahore
Virtual Consultation
Shifaam Virtual Clinic
Consultation Fee Rs.800
Book Your Appointment
Virtual Clinic
Fee: Rs.800
Pakistan Young Psychologist Associa...
Fee: Rs.1,500
The legend below indicates the status of the appointment slots.
1.

Physical Clinic: all available time slots for physical doctors appointments only

2.

Virtual Clinic: all available time slots for doctors appointments via video call

3.

Free Clinic: all available time slots for free virtual clinic appointments

4.

Booked Clinic: unavailable time slots that have already been booked
Physical Clinic

Virtual Clinic

Free Clinic

Booked Clinic
Shifaam Virtual Clinic

05:00 PM
05:20 PM
05:40 PM
06:00 PM
Load More
06:20 PM
06:40 PM
07:00 PM
07:20 PM
07:40 PM
08:00 PM
08:20 PM
08:40 PM
09:00 PM
09:20 PM
09:40 PM
10:00 PM
10:20 PM
10:40 PM
11:00 PM
11:20 PM
05:00 PM
05:20 PM
05:40 PM
06:00 PM
Load More
06:20 PM
06:40 PM
07:00 PM
07:20 PM
07:40 PM
08:00 PM
08:20 PM
08:40 PM
09:00 PM
09:20 PM
09:40 PM
10:00 PM
10:20 PM
10:40 PM
11:00 PM
11:20 PM
05:00 PM
05:20 PM
05:40 PM
06:00 PM
Load More
06:20 PM
06:40 PM
07:00 PM
07:20 PM
07:40 PM
08:00 PM
08:20 PM
08:40 PM
09:00 PM
09:20 PM
09:40 PM
10:00 PM
10:20 PM
10:40 PM
11:00 PM
11:20 PM
05:00 PM
05:20 PM
05:40 PM
06:00 PM
Load More
06:20 PM
06:40 PM
07:00 PM
07:20 PM
07:40 PM
08:00 PM
08:20 PM
08:40 PM
09:00 PM
09:20 PM
09:40 PM
10:00 PM
10:20 PM
10:40 PM
11:00 PM
11:20 PM
05:00 PM
05:20 PM
05:40 PM
06:00 PM
Load More
06:20 PM
06:40 PM
07:00 PM
07:20 PM
07:40 PM
08:00 PM
08:20 PM
08:40 PM
09:00 PM
09:20 PM
09:40 PM
10:00 PM
10:20 PM
10:40 PM
11:00 PM
11:20 PM
Pakistan Young Psychologist Association

09:00 AM
09:20 AM
09:40 AM
10:00 AM
Load More
10:20 AM
10:40 AM
11:00 AM
11:20 AM
11:40 AM
12:00 PM
12:20 PM
12:40 PM
01:00 PM
01:20 PM
01:40 PM
02:00 PM
02:20 PM
02:40 PM
03:00 PM
03:20 PM
03:40 PM
04:00 PM
04:20 PM
04:40 PM
05:00 PM
05:20 PM
05:40 PM
09:00 AM
09:20 AM
09:40 AM
10:00 AM
Load More
10:20 AM
10:40 AM
11:00 AM
11:20 AM
11:40 AM
12:00 PM
12:20 PM
12:40 PM
01:00 PM
01:20 PM
01:40 PM
02:00 PM
02:20 PM
02:40 PM
03:00 PM
03:20 PM
03:40 PM
04:00 PM
04:20 PM
04:40 PM
05:00 PM
05:20 PM
05:40 PM
09:00 AM
09:20 AM
09:40 AM
10:00 AM
Load More
10:20 AM
10:40 AM
11:00 AM
11:20 AM
11:40 AM
12:00 PM
12:20 PM
12:40 PM
01:00 PM
01:20 PM
01:40 PM
02:00 PM
02:20 PM
02:40 PM
03:00 PM
03:20 PM
03:40 PM
04:00 PM
04:20 PM
04:40 PM
05:00 PM
05:20 PM
05:40 PM
09:00 AM
09:20 AM
09:40 AM
10:00 AM
Load More
10:20 AM
10:40 AM
11:00 AM
11:20 AM
11:40 AM
12:00 PM
12:20 PM
12:40 PM
01:00 PM
01:20 PM
01:40 PM
02:00 PM
02:20 PM
02:40 PM
03:00 PM
03:20 PM
03:40 PM
04:00 PM
04:20 PM
04:40 PM
05:00 PM
05:20 PM
05:40 PM
09:00 AM
09:20 AM
09:40 AM
10:00 AM
Load More
10:20 AM
10:40 AM
11:00 AM
11:20 AM
11:40 AM
12:00 PM
12:20 PM
12:40 PM
01:00 PM
01:20 PM
01:40 PM
02:00 PM
02:20 PM
02:40 PM
03:00 PM
03:20 PM
03:40 PM
04:00 PM
04:20 PM
04:40 PM
05:00 PM
05:20 PM
05:40 PM